Before and After - Top Five Curb Appeal Projects
Get noticed with car-stopping curb appeal

If you are ready to put your house on the market, there are certain things to consider freshening up in terms of the interior and exterior of your house beforehand. Homes with high curb appeal sell for 7% more than similar homes, on average, according to Realtor Magazine. That means if you're selling two houses of the same model, one with average curb appeal may sell for $600,000 while the same model with high curb appeal will sell for $42,000 more.
Curb appeal can make a huge when selling any house. By catching potential buyer's attention with instant curb appeal, you can see a difference in the amount of time a home spends on the market and the offers the homeowner receives. But if you have a limited amount of time and money to spend, what do you focus on?
There are several different ways to create visual interest and make a great first impression of an inviting, welcoming home. You can do this by ensuring that the home's exterior from the garage door to the front yard and anything else that would be noticed from the outside of the house is eye-catching. Fresh landscaping with potted plants or flower beds and a beautiful lawn, a clean porch and smooth driveway, and a fresh coat of paint adding a pop of color make a dramatic difference to the exterior look of your home.
It will always work in your favor to highlight the best features of your house, whether it is on the inside or outside. Maverick Design, a specialized design studio by Wedgewood Homes, focuses on value-add renovations and creating beautiful homes at all price points. When it comes to curb appeal, they know what they're doing.
Five Best Curb Appeal Updates in 2021 - Before and After
When selling a home, curb appeal packs a punch. Think about an online listing. What's featured in the first photo buyers will see? The front of the house! With a great exterior, you get increased listing views, more showings, and better offers.
What curb appeal elements have the biggest impact?
1) Pavers
Pavers provide an opportunity for outdoor living and custom look that's also durable. Pavers can be laid in a variety of patterns, offering the opportunity to customize the exterior of a home. And pavers are more durable than concrete. Because they come in individual pieces, they can accommodate fluctuations in the ground and, if one gets broken, you can easily replace it.
"Maverick designed a landscape plan that included extending the driveway with large pavers, turning the front yard into an outdoor entertainment space, truly embracing the California life," as Maverick describes it in Home Tour: Modern Cabin in Hollywood Hills.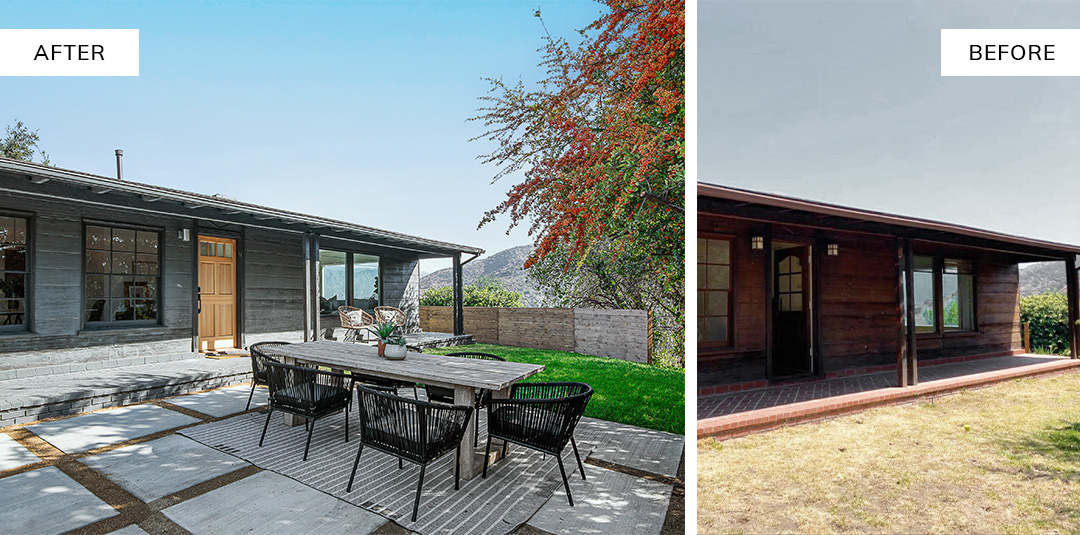 2) Horizontal Fencing
Horizontal fencing gives a contemporary look while also providing privacy. It's synonymous with modern, clean fencing. Plus, it has some bonuses. It requires fewer materials (no stringers and less wood), and it lasts longer.
The exterior of this home was dilapidated, but that offered Maverick Design an opportunity for a big impact. "We modernized the exterior with a lighter, coastal paint scheme and added new horizontal wood fencing and gate to enhance the curb appeal," as Maverick explains in Home Tour: California Coastal Abode.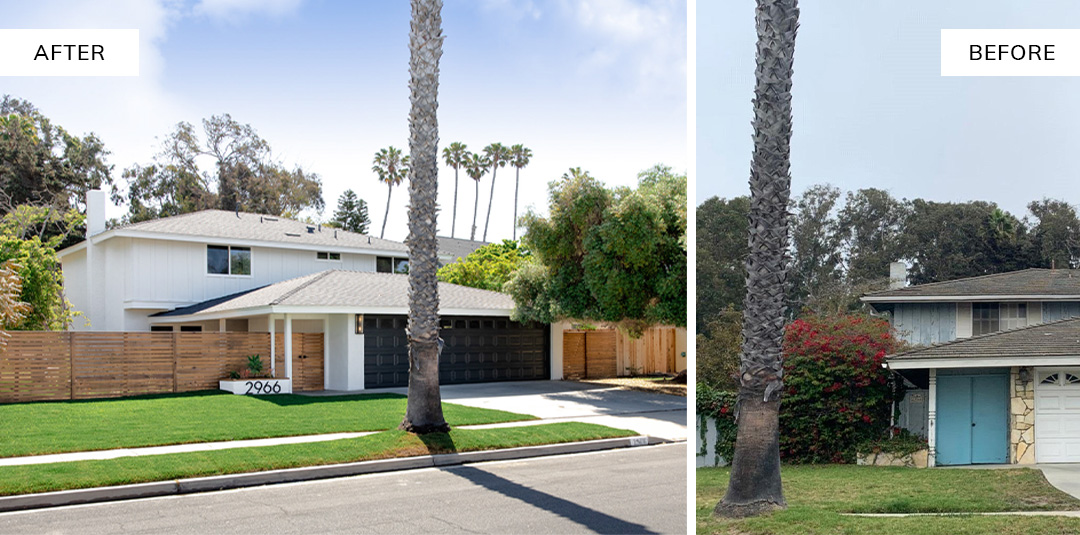 3) Landscaping
When Maverick Design began this Tudor-style project, the front yard was sparsely landscaped and primarily dirt. With the climate and water conservation efforts in Los Angeles, landscaping offers a unique challenge. Maverick they chose drought-resistant landscaping, called xeriscaping, that stood out when viewed against the all-white canvas of the house.
"The front yard was mostly dirt, with a few promising plants that sparked a xeriscape concept. Maverick came up with a design to selectively add and relocate existing plants to reimagine a front yard that was not only beautiful but offers water conservation and low maintenance for years to come," as Maverick details it in Home Tour: Reimagined 1920s Tudor.
Choose landscaping elements that are appropriate to your climate and can be easily maintained to keep them looking sharp all year.
4) Paint
Maverick wanted to celebrate the architecture of this hilltop home. They chose to use a bright pop of color on the front door to draw attention up the slope of the front yard to the entry of the house.
Kyla Herbes, author of House of Hipsters design blog said, "Painting your front door is a great way to show off your personality. When we purchased our home, the front door was a simple white, but I wanted to jazz it up and make it pop. Hot pink paint did the job, and it makes me smile every time I open the door. Plus, visitors always know where I live when I say, 'we're the house with the bright pink door!'"
Painting a front door with a bright color will draw attention and add personality to the home as potential buyers drive by it or browse online listings. For this door, they chose a tangerine shade, but you might choose other popular colors like blue, black, red, yellow, or green.
As Maverick recounts in Home Tour: Reimagined Hilltop Residence, "A retro-inspired paint scheme was selected, accenting the front door in a bold color that contrasted with the light exterior and panoramic windows."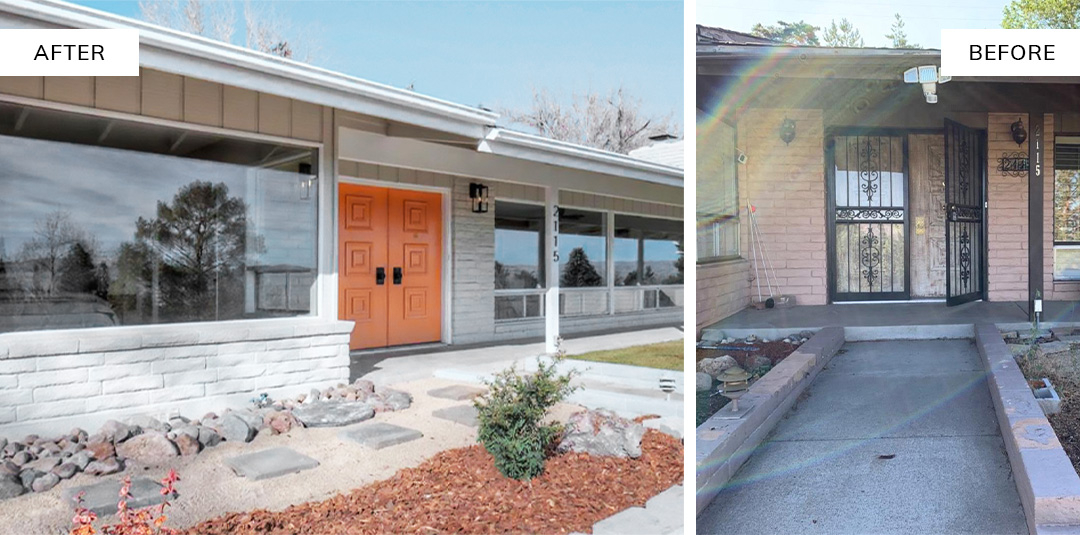 5) Custom Elements
Custom elements really pop! In this Spanish-style home, the entry steps make a statement with hand-painted tiles. This choice makes the home feel special and helps it stand out from other homes on the market.
The Maverick Design team painted the exterior of the home a light color, so the custom tiles became the focus.
As Maverick explains it in Home Tour: Reviving a Home with Spanish Character, "Maverick immediately envisioned a Spanish hacienda-inspired design. Using a lighter paint scheme on the home's exterior, the hand-painted tiled steps and adobe-style privacy fencing became the focus."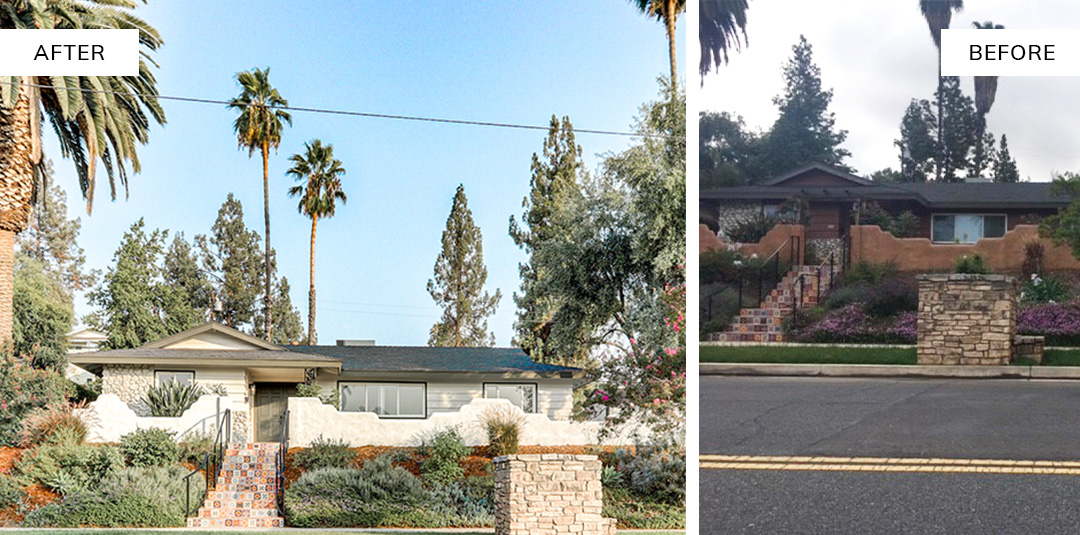 Increase Your Profits With Great Curb Appeal
Curb appeal has a big impact on the sellability of a home. By embracing a high-impact exterior project like any of the five we've highlighted, you have the potential to sell a home faster and for a higher price.
Learn how Wedgewood Homes partners with real estate agents to sell those formerly unsellable homes.