Five Kitchen Design Trends to Implement Before You Sell
When it comes time to sell your home, you can make a few changes to ensure your home stands out in the market.
Many homeowners would agree that doing a kitchen design refresh when deciding to sell your home is a great way to create a new, updated living space for potential buyers. In many cases, the kitchen area is a big selling point for a home. While some experts may recommend full kitchen renovations, there are more affordable remodeling options that still make an impact on the sales price. By implementing some thoughtful, strategic updates, you can make your kitchen look brighter, bigger, and more beautiful – and all on a budget.
There are many different ways you can update the overall look and style of your kitchen.By making stylish upgrades to features like cabinets and lighting using stylish and aesthetic updates, you can create instant interest and a seamless look that is eye-catching for potential buyers.
We're spotlighting some of our favorite improvements from our in-house design experts, Maverick Design. In our home renovations, these updates helped lead to increased desirability and a quick home sale.
If you're looking to sell your home quickly, these five kitchen home improvements will boost your home's resale value for future homeowners without an expensive and time-consuming renovation by updating the look snf style on your kitchen while keeping it functional.
1. Two-toned Cabinets
Dual-toned cabinets are trending for a good reason. They create visual interest, can make a kitchen look more spacious, and give a customized look.
One of the most popular versions of this style uses a simple two-toned color scheme, which is streamlined and beautiful. In Maverick Design's Spanish Revival design, we mixed multiple tones with wood to create a stunning effect.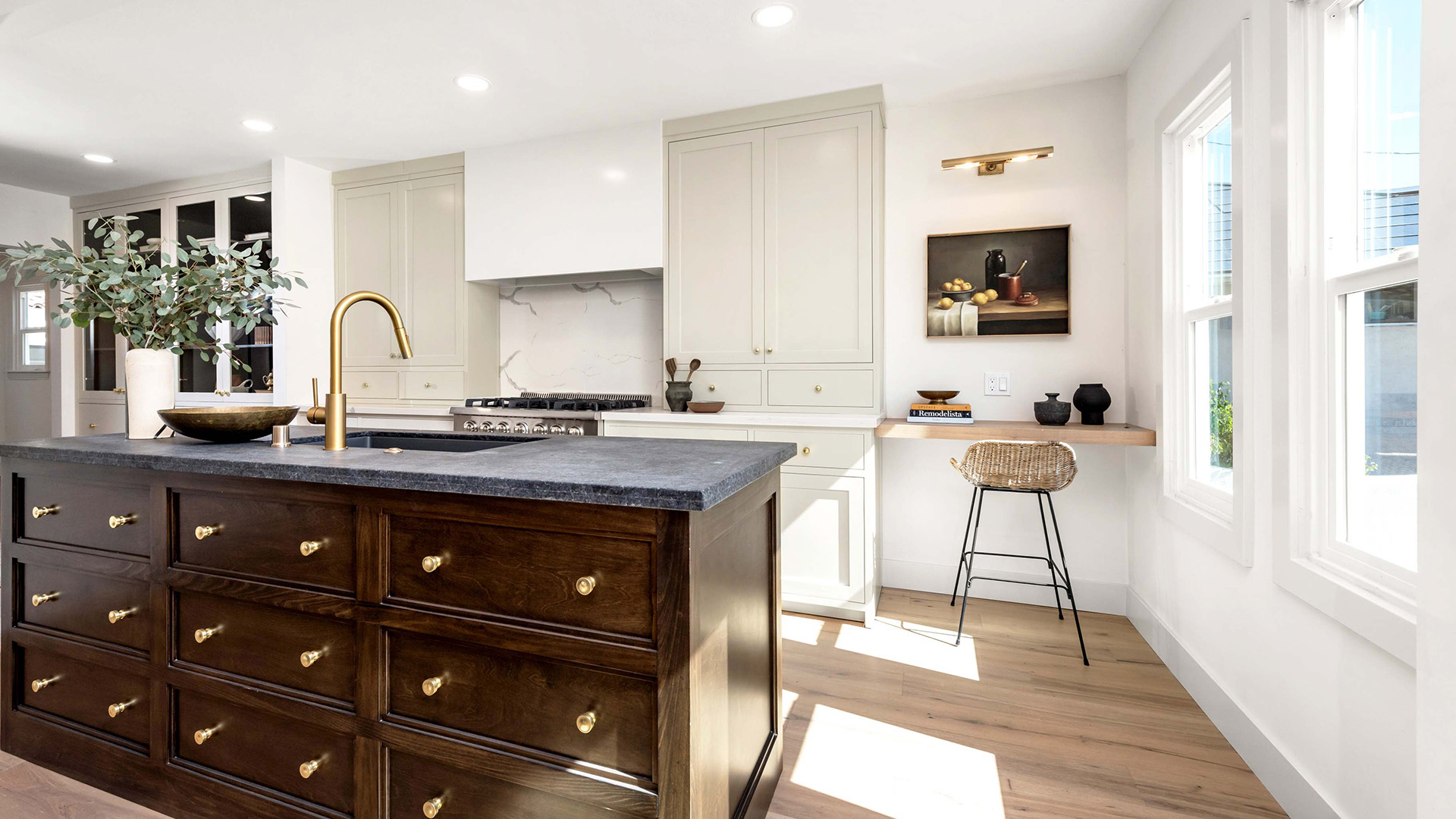 2. Statement Lighting
Statement lighting offers you an opportunity to bring some personality into the kitchen. Do you have a mid-century modern home? Adding a new modern pendant light can create visual interest and brighten the space. In our Mid-Century Modern design, we added a feature chandelier over the kitchen island to anchor the space and highlight our streamlined, two-toned kitchen.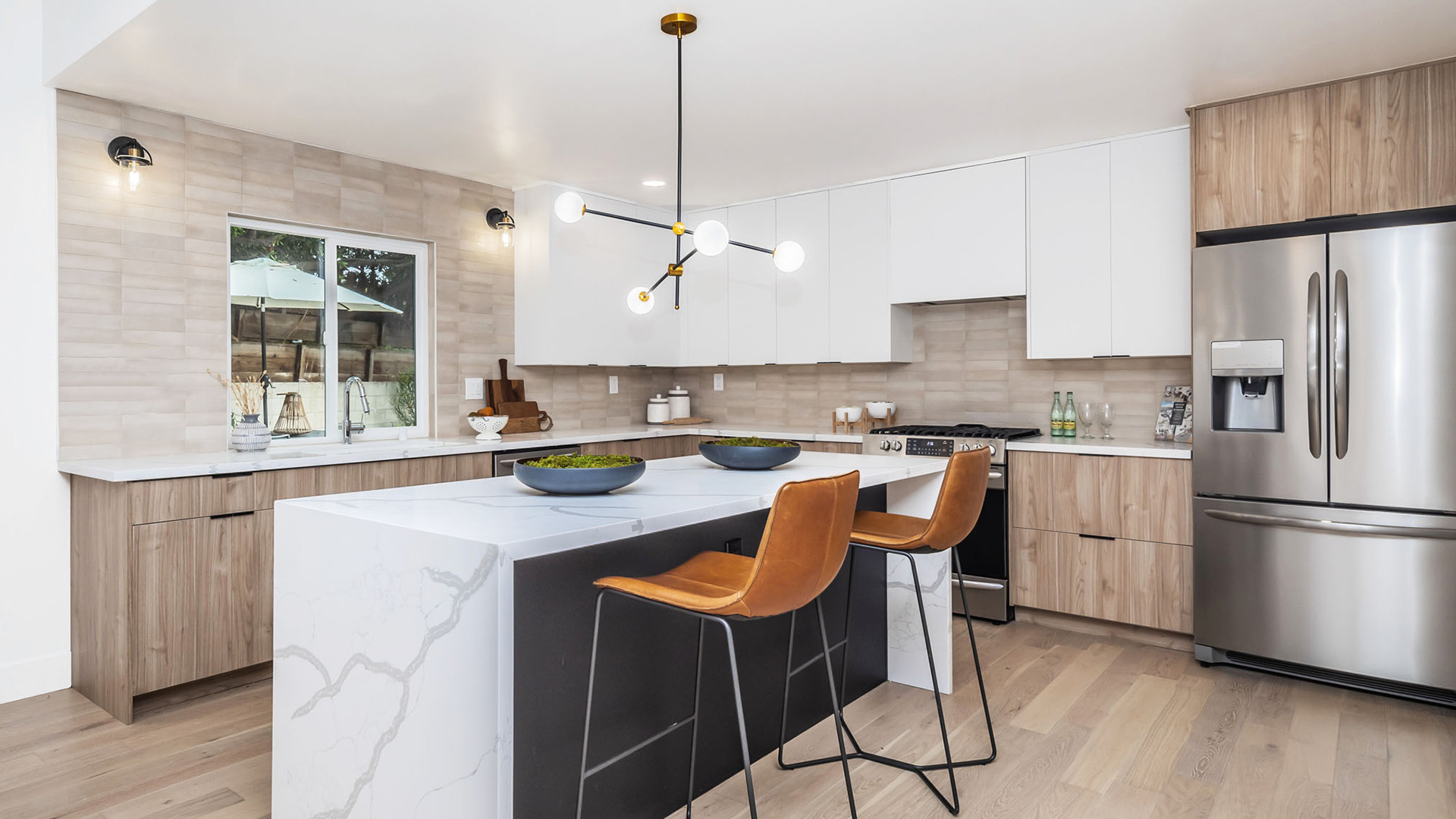 3. Accent Features
Accent features such as backsplash, range hood, and hardware can elevate the design of your kitchen. In our Houston Home renovation, we incorporated brushed brass in the cabinet hardware and kitchen faucet for a touch of warmth. In addition, we added a hand-made ceramic backsplash tile to add texture.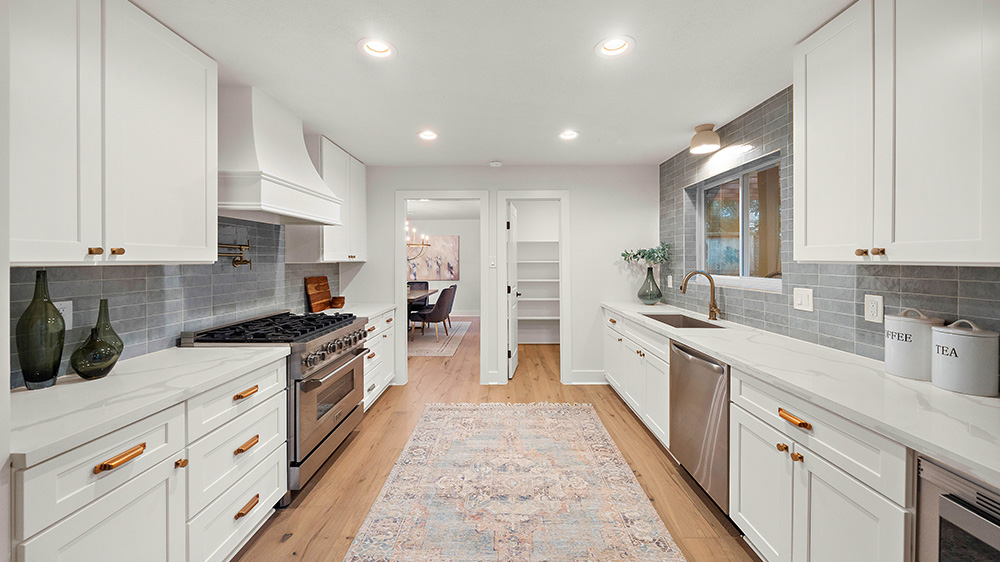 4. Repainted Cabinets
A fresh coat of paint can breathe new life into a dated kitchen. In our recent Modern Cabin design, we selected a muted green tone to enhance and enlarge a small kitchen, which paired well with black and white accents. By keeping the rest of the room neutral, the green cabinets added dimension without overwhelming the room. When in doubt, a fresh white kitchen can still make older cabinets look new and hide any damages from wear and tear.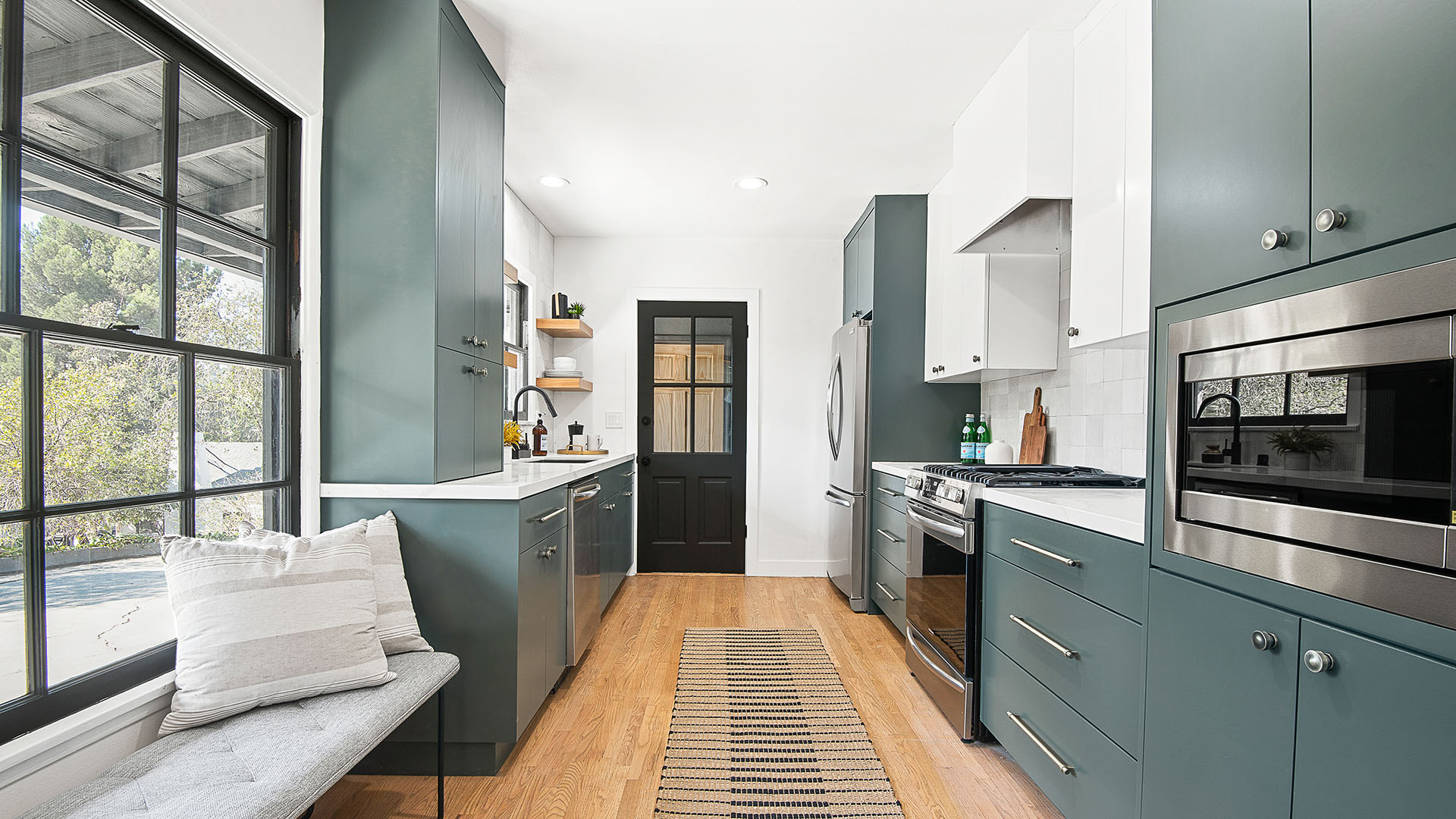 5. Open Shelving
When we designed a Spanish Bungalow, we incorporated open shelving to make the kitchen feel more expansive. You might think that open shelving might sacrifice storage, but with thoughtful selections, it can provide storage and elevate your space.
Open shelving does not need to get cluttered. In addition to storing daily dishes, you can also use open shelving as a canvas to display art or other beautiful objects. Use open shelving to showcase mason jars with dry goods, plants, decorative plates, artwork, or other select curated items.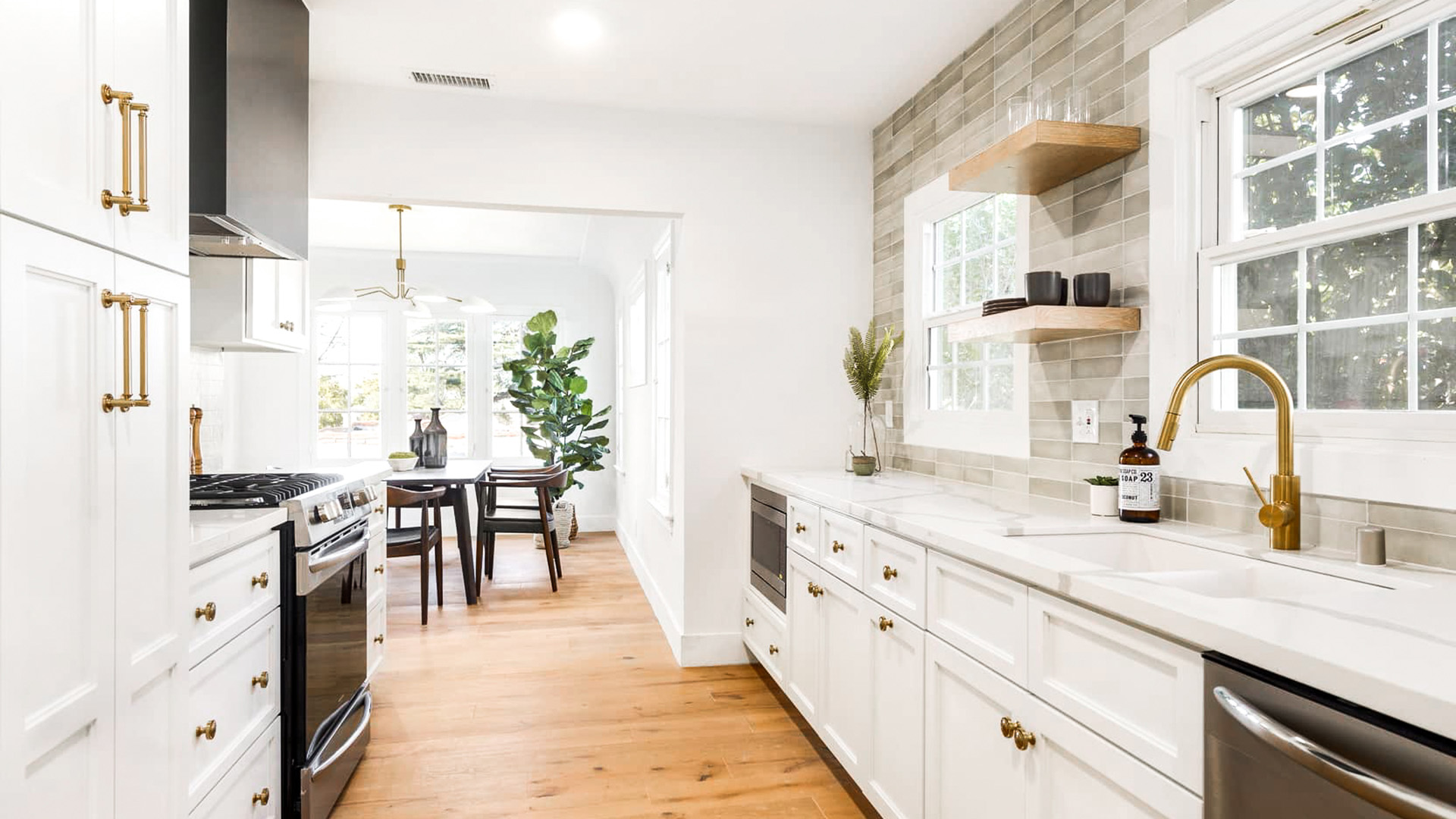 Kitchens Sell Homes
Minor adjustments to your kitchen can have a major impact on how quickly it sells. By taking the time to implement a few of these simple kitchen updates, you can expect your listings to stand out, resulting in a shorter time on the market.